Looker's Success Story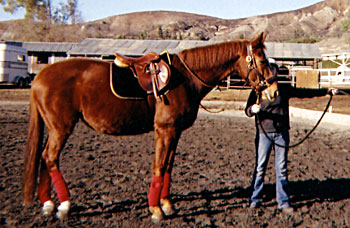 Looker's History
Looker, an 11-year old chestnut Dutch Warmblood, is one of Aleta McCormick's many "backyard research projects." What makes his story special and unique is that his rehabilitation program formula is the outgrowth and culmination of many years of experimental, trial-and-error hands-on work with her own horses and their injuries.
Looker was the first horse to be placed on a structured, individually-tailored, practical rehabilitation program, which was faithfully and consistently followed to the letter.
Looker was donated to O.E.R.C. late in 2003 by his owner, because he had a hind end problem, and was routinely unsound and in pain. We learned that he had been trained in jumping and dressage, but was not serviceably sound unless he received hip "adjustments" every six weeks.
At the time that Looker was donated, he was not in training and was relatively unfit. We suspected that the root of his problem was tension to and breakdown of the tissues, muscles, and ligaments surrounding his hip joints which can be caused by excessive circling during his workouts, lunging, and round pen work.
Initial Forms of Treatment and Therapy
Looker's rehabilitation program began in November of 2003. The foundation of his rehabilitation program encompassed the following initial forms of treatment and therapy by Aleta McCormick and Nancy Parker:
1. Daily hand-walking and turnout by Nancy Parker
2. Walking on straight lines under saddle every other day by Nancy Parker
3. Intensive, deep tissue body work (massage) sessions for three consecutive weeks, followed by bi-weekly sessions by Aleta McCormick
4. Interim targeted (hind-end) massage by Nancy Parker (rider) following workouts throughout the week Looker underwent three months of this treatment and therapy before any substantial increases in riding workout duration or exertion level were started.
The Results of Initial Treatment
The results of this initial treatment and therapy phase were slow but progressive:
1. For the first six sessions of body work performed by Aleta McCormick, Looker's hip joints continued to be out-of-socket. However, as the body work progressed week by week, there was less of a tendency for the hip joints to be out of socket, and the muscles surrounding the hip joint increasingly developed, strengthened and began to evenly support the joint.
2. Session #7 of Aleta McCormick's deep tissue and body work yielded the first solid stabilization in Looker's hindquarters. With the exception of two occasions in which the hip joint required a minor adjustment, his hips have stayed in place, and the muscles have continued to develop and strengthen, enhancing his balance, overall range of motion and way of going.
3. Each time Aleta McCormick administered the deep tissue bodywork on Looker, she could feel the hip muscles pulling at the hip joint in tension.
4. Then, after four months of rehabilitation, the day arrived when the muscles and joints in Looker's hind end felt normal for the first time.
5. We weren't certain whether we could officially and confidently finalize Looker's rehabilitation program and pronounce him stabilized, but we knew his body would tell us when we'd reached that moment. After three months of Looker's maintaining a stable hind end, with a riding work load approaching "normal" for an equine athlete and in the process of building that riding workload, we declared Looker's program a SUCCESS!
6. In all, Looker's rehabilitation program was seven months long. Once Looker reached his stabilization phase, large circles and serpentines at the walk, trot and canter were introduced into his riding workout, and more challenging workouts were slowly and carefully started, all the while coupled with careful monitoring.
The Stabilization and Maintenance Phase
The Stabilization and Maintenance phase of Looker's rehabilitation program will involve more of the same components that were part of his initial and secondary treatment and therapy:
1. Deep tissue bodywork (massage) by Aleta McCormick will continue on a bi-weekly basis
2. Looker's new owners, Megan Young and Kendra Reed-Young will now assume responsibility for his riding workouts from Nancy Parker. Sabine Baron, professional trainer of dressage horses, who has known, trained, ridden, and shown Looker for more than seven years, will continue to supervise the structure, extent and duration of Looker's workouts and riding lessons, as Megan and Kendra learn to handle and work with Looker to bring him to his full potential.
All in all, this research project has reached a happy ending with lots of breakthroughs and turning points achieved along the way. As you can see from the before, during, and after photos, Looker has begun to bloom and develop into a strong, fit horse, with a smooth, confident way of moving. The "Looker" research project has provided regular and positive reinforcement that Aleta McCormick's deep tissue massage therapeutic formula is powerfully effective in improving and reversing tissue damage and injury and that Nancy Parker's rehabilitation handling and riding paradigm is reasonable, realistic, and well-structured.
Keep checking our website for new horses that become O.E.R.C. research and rehabilitation projects, their stories and results! Their stories are common, recurring ones, and could be your horse!
The Looker Project
Looker's owners – Ingrid Young and daughters
Megan Young and Kendra Reed-Young
Deep tissue body work on Looker – Aleta McCormick
Trainer – Sabine Baron
Rider/Rehabilitation and therapy – Nancy Parker