What a sad sight Ladybug was to look at. Her body was twisted into a half circle with the concave side on her left side. She looked like a truck ran into her. Her front and hind end both twisted inward and on order for her to move she shuffled sideways. It also appears her back was broken above the sacrum. When she arrived she was pregnant, but the baby was born prematurely and died. Her feet were growing inward to the right like foot long curluq's and I was told they were much worse when she first got there. Trying to trim the feet of a wild horse is a challenging subject in itself and
…read more…
Ladybug First Arrives at Omni Equus Research Center
Omni Equus Research Center
There are so many horses in need of rescue and rehabilitation every year. Too many simply do not find homes and it has been well documented that over 80,000 horses are euthanized or sold for slaughter monthly.
We at Omni Equus Research Center (O.E.R.C.) believe that more can be done to reverse these horrifying statistics than simple horse rescue and adoption. Our mission and commitment is to research and inform the horse community of alternative, more effective methods of training and rehabilitation that will not only provide more injured horses a second chance in life, but also prepare young horses' bodies for a solid, sound, long-term life of work and service.
O.E.R.C believes that educating owners, trainers, riders and grooms on how the equine body functions, and applying that knowledge on a day-to-day basis to the horses they own and work with can lessen and prevent many crippling injuries that often sabotage, curtail or prematurely terminate a horse's career and lifespan.
One of the harsh realities of life is that horses cannot choose or control their own destiny. Every day, young and old horses which, because of age and/or injury, can no longer fulfill their owner's performance or role requirements, face an often painful and undignified end to a hardworking career in the service of sport and entertainment.
Scroll through our website and acquaint yourself with what Omni Equus Research Center is, what we believe, what we've accomplished, and how you can be involved! Read our success stories and let us know what you think!
Featured Success Story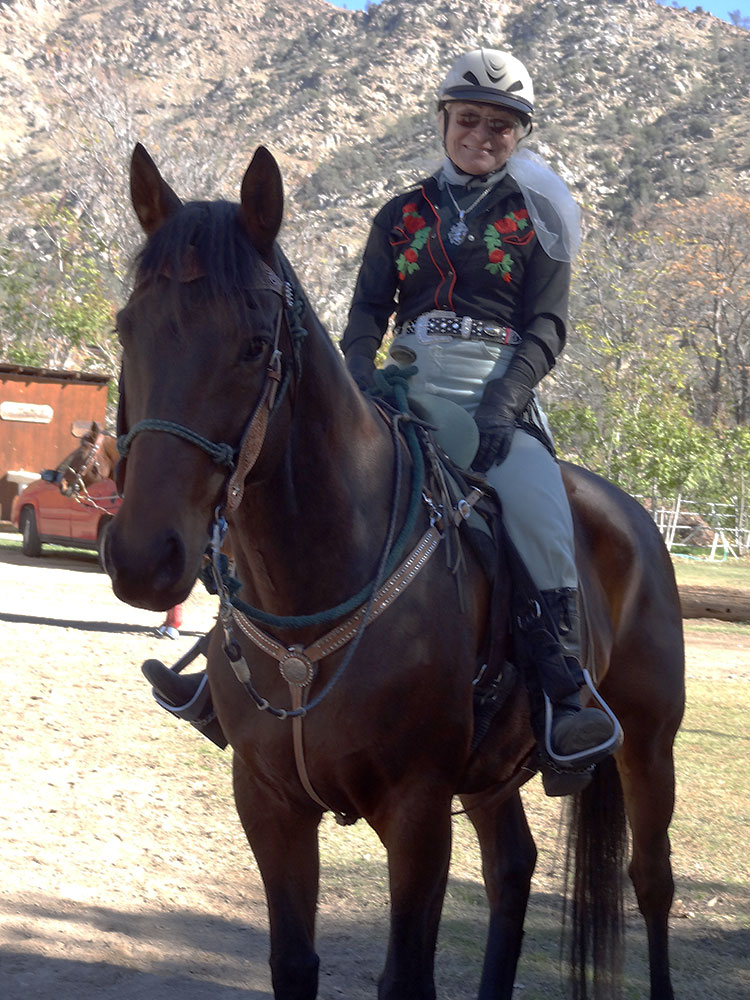 When I first met Noble, he had no left hind end. It was completely atrophied away! It was heartbreaking to see this once beautiful 3 year old stallion so crippled and deformed.
Noble had been in training at the race track and due to simple knee surgery, he was sent home to mend. During his layup, the muscles in his left hind began to disappear. He was unable to walk or stand comfortably and no one could figure out what had happened or how to fix "it".
A local veterinarian looked at Noble and pronounced the problem as neurological and untreatable. Noble was scheduled for "auction".
As a last resort, Noble's owner asked me to take a look at Noble. It was clear to me that he had suffered a traumatic injury that had ripped the muscles on his left hind at the attachments to the bone. There was no doubt as I began to apply my body work technique to Noble: His pelvis was weakened, his left hip dislocated and scar tissue had formed and hardened, blocking the nerves from firing the muscles. The muscle had atrophied from lack of function. Read More
---
OERC was originally conceived as a new type of facility to measure and "prove" what types of therapies are successful and to what degree. Currently any results are subjective and results are whatever the practitioner tells you or you personally perceive.
OERC would like to test these various alternative therapies and modalities for furthering healing to really see what works. There are different ways of measuring the effects of these using scientific equipment. Before and after treatment, the movement of the horse would be measured and then again weekly. A pattern of improvement would be the goal. …read more…
First, I have to say that I love exploring ways of helping horses using a Rolfing style of bodywork I learned back in the 80's when I was working on human athletes and people with injuries. My human work became so predictable and the style of bodywork that I developed so successful that I just got bored.
To successfully transfer my method to an animal I have always had an affinity with was beyond exciting. Faced with a horse athlete (I began my journey in a hunter-jumper show barn) left me feeling lost and impotent. How to do this was as exciting as it was challenging.
To simulate the deep pressure I achieved on a human body using knuckles and elbows, I experimented with various types of horse grooming tools and ways to use them. It took some real trial and error, but I eventually settled on 2 types of curry combs. It wasn't until 20 years later that I finally named my method: Aleta McCormick's Curry Comb Method for the Equine Athlete. Obviously, this method can be used wherever needed on any horse with any physical problem.
I continued my research by taking on horses with seemingly incurable problems, often retired or scheduled for a worse outcome. They were the subjects for my research. …read more…
Omni Equus Research Center's (O.E.R.C.) mission is to inform and educate the horse community as to new and improved methods of training and rehabilitation, as a means to ensure a solid, sound equine athlete for life.
Our goal is to research and develop innovative, effective ways to optimize equine athletic performance in race horses and performance horses through:
Revolutionary, advanced methods of training
Examination and documentation of the effects of training on equine muscles, bones, ligaments, tendons, and hooves
Contact Omni Equus Research Center